descrição:

Blu box 20 CM comprimido air party popper é novo design com o mesmo design azul box.it parece lindo e adorável crianças com idade de 8 anos +. Este produto com os fogos de artifício tradicionais comuns não é o mesmo, sem ignição, controle de ar comprimido, os usuários só precisam para girar suavemente o cilindro, todo o seu material de enchimento ideal é pulverizado para o ar em um alcance alto entre 3-10 m, uma revolta de cores, aumenta a festa festiva para você. este aviador de confetes é amplamente utilizado em casamento, ano novo, abertura de loja etc.

Característica:
Este produto não tem fogo.

Este produto não tem poluição

Este produto não tem pó.
Produtos específicos:
Product name

20cm New design party confetti popper

Upside cylinder

Strong paper tube

Bottom cylinder

Iron bottle

Inside filling

Color paper, Metallic foil, Streamers, Color rose petals etc.

size

20 cm

Cylinder design

New design and logo is available

Power

Compressed air

Opening

Rotary type

Certificate

EN71(SGS)

Usage

Twist the iron bottle

Packing Details

Inner boxes

24pcs/color box

Cartons

50x34x23 cm/96pcs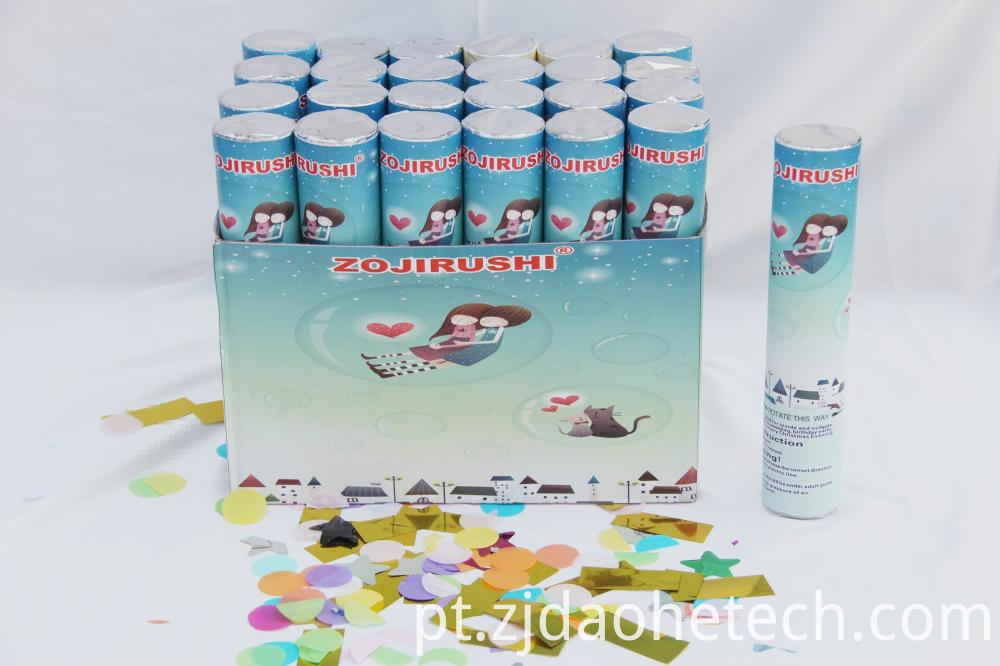 Re-marks: preenchimento de vários projetos para seu cheque, avalibale de OEM.

Grupo de Produto : Party Popper > Partido de ar comprimido Popper