Descrição:

O projetor do partido de Primavera do projeto recém-russo é o nosso projeto recém-projetado Spring 2017. O design russo Spring Party Popper é o tamanho normal para a festa normal da Primavera, 12pcs / caixa de exibição, com alta qualidade, são bons produtos para promoção. design de primavera, fácil e seguro de usar. basta torcer a primavera, confetes coloful disparar no céu, e também pode ser usado por crianças de 8 anos +.
Este projeto de festa de primavera é amplamente utilizado, como Decoração de festa de aniversário, Decoração de carnaval, Produtos aplicados no dia do casamento, Janela, Presentes do festival, Chuveiros nupciais, Aniversários, Cerimônia de abertura, etc.
Característica:
Este produto não tem poluição.

Este produto não tem fogo.

Este produto não tem pó.
Produtos específicos:
| | |
| --- | --- |
| Product name | Newly russian design spring party popper |
| Components | plastic tube |
| Inside filling | metallic foil confetti ,shape of colorful papers, long streamers and so on |
| size | 15.5cm |
| Power | Spring |
| Opening | Rotary typer |
| Certificate | EN71(SGS) |
| Daily Capacity | 20000 pieces |
| Usage | Twist the spring |
| Packing: | 12pcs/display box, 96pcs/out carton |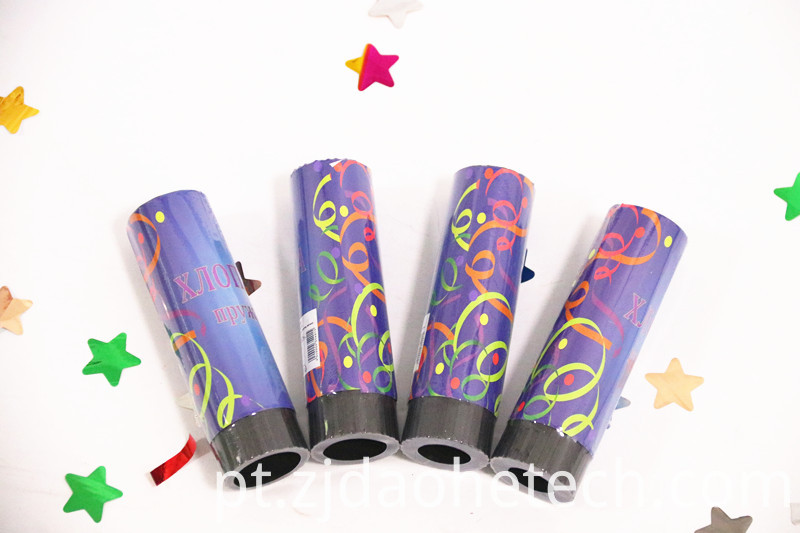 Re-marks: preenchimento de vários projetos para seu cheque, avalibale de OEM.

Grupo de Produto : Party Popper > Spring Party Popper